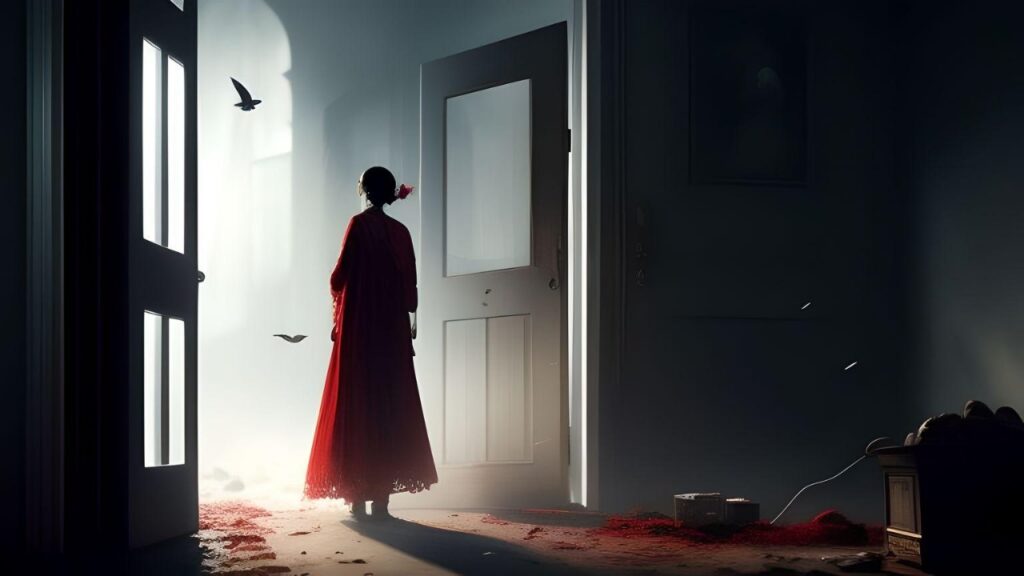 The newly wed couple, Sameera and Akash were travelling from Vishalpur in a intense scenario of romance. On the way to home they were reading short romantic stories kept in the dashboard of car. When the car stops, Akash says come on, my dear, now let's go to home. Akash's very expensive house, which is in a bungalow, which he has built for Sameera, which is a surprise for her after their marriage. But the truth is fate and some bungalows are haunted. Akash loves Sameera so much that he says that my dear, your first step will light up my house. Love is true. Samira has the shadow of giants from the beginning, so how did she know that her steps will put this house in the abode of giants. When she takes her first step, the house's electricity goes out and she gets scared, things start to shake. She hugs Akash with afraid, and Akash hugs and to comfort his wife.
As if someone noticed the disaster that happened to the relationship of both of them۔ But if he talks further, the electricity in the house starts flickering and blinking۔ As if everywhere, I am calling Sameera, he sees Sameera again and again and says that my parents have left this world, now you are my support, my life is my everything, Akash says from the next house that I am a lamp. I am going to take it and you stay here, don't go anywhere my dear۔
Because the electricity goes out, her first steps betray those who do not support her. The scene is so terrible that it is a dark night. Darkness is everywhere. Suddenly Samira sees that the door opens by itself ۔When she opens the door, she finds a man standing in front of her. She moves forward with dressed red bridal۔ sudden a bird in its feet falls from door۔ Sameera panics and says Akash it is you please don't play this joke windows are shaking because someone is watching from here. In the same way, the same fear ends in the first term. The chill of horror stories flushed through her mind.
She goes to the bedroom which is decorated with flowers which Akash has decorated for Sameera. She sees a woman sitting in front of table in a red suit, she hears scary sounds, when Akash comes, he says why did you come in, I forbade you not to go in without me. Sameera panics and says Akash, I just saw someone here, there was someone in our room. Akash looks at her lovingly and she blushes. Now both of them start laughing, both of them smiles, but still Sameera feels like there is someone, but it's true that Sameera has Saya all the time. But still Akash consoles Sameera that, there is no one, this is your illusion my dear.
Now he looks at Sameera and talks, then immediately Sameera gets scared as if someone is sitting in front of her, she immediately backs away and says that you should relax, our marriage is done, you are worried now that time۔
Sameera also loves Akash very much; she is worried in her heart that what should I do and she says that I am very lucky that I got a husband like you. He sings a song in her ears. Suddenly a scary hand pulls her out of the bed and throws her down. After suddenly falling, she goes panic and falls down. In fact, she understands that there is an evil in this house۔ The next morning comes, the sun rises, she dresses up beautifully, she cooks food for Akash with great enthusiasm. An ember of fire falls on her mouth and she falls and milk falls from her hand.
Similarly, Akash wants to talk to Sameera and share his heart with her. Akash wants to transfer the entire property to Sameera۔ Sameera says to Akash that both of us will be together in this world and the next world too, no one can separate us. On hearing this, both of them smile at
each other and after looking at each other lovingly, Akash goes to the office. As the series goes on, Akash gets angry in his heart. One day, when Akash is standing in front of the mirror to groom himself, Sameera thinks that Akash's shoulders a girl is clinging, she sees the spirit and she runs away screaming seeing Akash. For Akash, it could not be more worse scenario than some random horror story.
After Akash left for office, Sameera comes to her room and sees a box lying in a secret place in her room. She looks from there and wonders where the box came from when she opens it. This box is lying in a big secret place which Samira sees and picks it up when she opens it she is also surprised that it is actually the same box which is the cause of the movements in this house it is a bad thing all this. This is the one who has come to this house that what happened in this house۔ When this house was empty, then there lived in this house a male owner and his mistress and some family members of the owner, in which the male fell in love with the mistress, and one day the owner died due to some reason, his soul resides in this house is imprisoned۔
But this servant had never told his mistress that I love you, he knew that his end was death, but this dead soul could never see the mistress of this man happy, so it happened that the mistress got married. Curly, she is happy but not seen by her soul, she also kills the mistress and does not know that she kills the mistress.
But the point here is how the mistress died. Is it true that this moneylender killed the mistress, why is her soul in this house? How? In fact, there were family members of the mistress who were her enemies and were jealous of her rule, so the mistress also dies. But the thing is that the mistress is actually poisoned, to rule in this rich house. For, the mistress's step-sister poisons her. Both were betrayal themselves۔ When desires die, they torment people by resorting to pain۔ When desires die, they torment people by resorting to pain۔ Those who are unable to fulfill their desires with good, then they influence people by resorting to bad words۔
The gold bangle and that picture are all secrets in the night, which the mistress leaves in this house when she dies, her gold bangle and the picture that is so dear to her heart. It is very close. Her soul yearns for this gold bracelet. And wants to take revenge from her step sister۔ Now it happens that Samira tries to find out this secret and gets quite tired so she thinks of going to the bedroom to rest, then a man comes from outside and knocks the door loudly.
What happens is that the form changes and they start talking to Samira by taking her husband's name۔
Salara comes in the form of a lawyer and gets Akash to sign the papers which he wrongly signs, not knowing what is going to happen, he hits himself with an ax on her own foot, they are the house papers. Before the death of the mistress in the house, her husband has to name his wife Samira.
Actually, she wants to do the same to Ruby Sameera and want to kill her husband if they don't help her۔ she can't see anyone happy (step sister). she couldn't be happy on her own, so she didn't want to see anyone happy here. Actually, Malkin was good soul. What had happened to her was her sister and she was going to poison her so, her wandering soul wanted peace and she wanted Akash and Sameera to help her too.
The spirit of the Mistress haunts them all because Sameera has her favorite picture and gold necklace, she is imprisoned in this house, her soul resides in it, and her spirit is always in hope of revenge. She wants justice۔ Samira signs these papers and he takes the papers back. That cause a failure of both lives۔ Now the next day a woman comes to Sami's house. They give good help to each other's۔ There is so much love between the two friends Sameera and thar lady ،then when her friend comes to his room to change the bed, she sees blood all over the bed and he sees that his hands are covered with blood are full and she starts screaming۔
She immediately runs away from the room. Sameera's room suddenly becomes dark. She sees her counterpart in the same red pair. And when she falls down, blood comes out of her hands۔
Now Akash comes inside and he sees that my wife has fallen down. He picks up Sameera and she insists to Akash that we should leave this house. "This house is very dangerous." She wants to leave the gold bracelet with her mistress in the fire because she finds out its secret. She repeatedly insists that tomorrow our children will also be in grave danger in this house۔ The revenge of this mistress's soul is that she has to take revenge on her half-sister at all costs, so Sameera wants me to help her. When it is evening, she goes to her room and sits in it, Akash suddenly comes from upstairs, he calls Sameera, she does not speak, she starts talking about herself bad، from which Akash realizes that there is someone else inside Sameera۔ , Because the spirit of this mistress enters Samira۔ An interesting thing happens here is that when the spirit enters into the Sameera, it makes the Sameera do everything, like harming the Akash or changing the form of her face، and wears gold bracelet it on her wrist، here her husband is very worried he tries to get it fixed but fails he is very worried and calls doctors but it doesn't matter and Sameera sometimes comes back to her original form and Sometimes in spirit way۔
Just as it is night, she comes inside Sameera they are both sleeping husband and wife when she wakes up slowly, she puts a pillow over Akash's face to hurt Akash and tries to kill him and Akash wakes up. Akash slaps Sameera to make her conscious۔
On the one hand, she is worried about all these problems, she cries day and night, and on the other hand, she wants the safety of her home, even though she cries day and night because of her husband's indifference. On the one hand, she starts going crazy, because Akash fights his wife from there as a way to use Akash as revenge in eye of Spirit Malkin۔
A lot of misunderstandings arise in Akash's heart for his wife and the spirit that is there comes to talk to what is inside Sameera and tells her that I used to sell the property of house۔ actually, she is not Sameera herself. She doesn't do it and talks hate speech here; Akash gets angry and decides that he is going to another city for business for a few days and after saying this he still leaves now.
From here when Sameera regains consciousness, she says please Akash don't leave me she insists a lot. Now Samira gets fed up with her situation even though she wants to help Spirit and still that spirit gives her some points ،so she gets fed up and goes to the room and starts shouting loudly that if she is where are you. Come on, what do you want?
Now Akash is going to the home after 1 month when Akash returns home after few days he calls out to Sameera saying where are you ؟but he doesn't found Sameera and hide herself as fun in room، now where was that simplicity now she started wearing bad clothes and her simplicity and character was gone black in color۔ Now Akash gets to know everything and he plans something how to get Samira out of this now Akash finds out and tries to find an investigation ۔ As Akash takes the gold bracelet and the picture to the fire, Sameera's condition slowly begins to recover and she realizes that the only solution is to burn the picture and the bracelet. And such Samira is hardly saved۔
Sameera recovers but the ghost stands in front of Akash and Sameera and requests them to avenge my death by my poisoned sister. So, she takes them both to her sister's house somehow, she tells them one thing that my sister is wearing a magic ring on her hand to take off this ring because I have some power and magic my revenge on her. It won't take effect until the ring comes off her hand۔ So, Sameera and Akash talk lovingly to her sister and take the ring from her in conversation. So just like that the power within him is gone and Malkin's spirit takes its revenge. Here comes the end and Sameera and Akash start their lives anew. And the husband and wife move to London where they live happily ever after, which erases some of the effects Sameera had as a childhood and finally fades away.