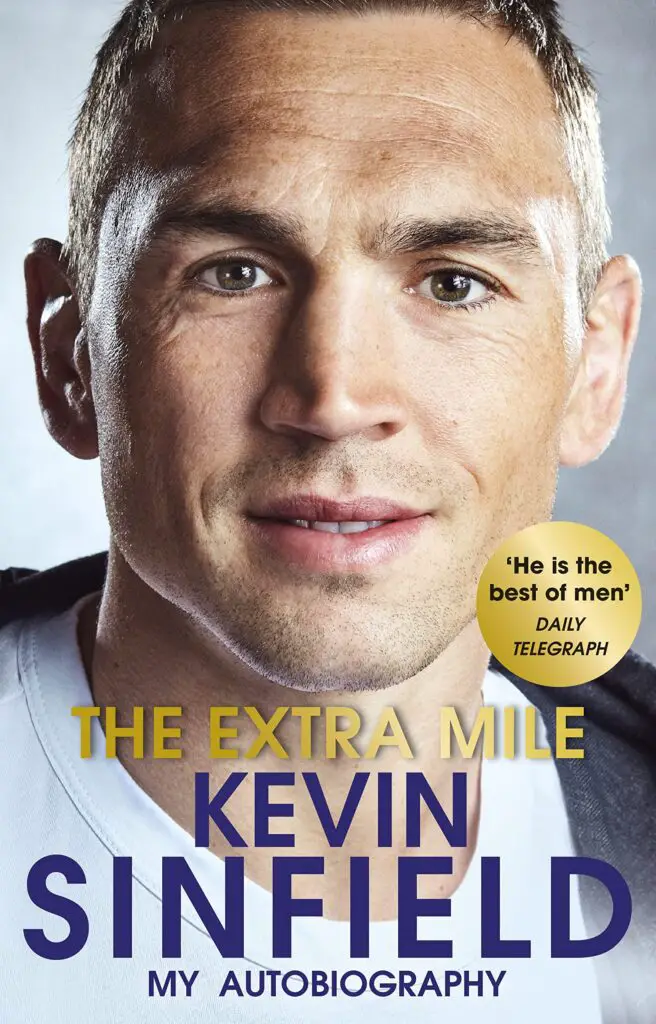 | | |
| --- | --- |
| PUBLISHER: | Century |
| GENRES: | Autobiography, sports biography, sports memoir, perseverance, leadership, personal growth |
| AUTHORS: | Kevin Sinfield |
| PAGES: | 320 pages |
| ISBN10: | |
| ISBN13: | |
| TAGS: | autobiography, sports biography, sports memoir, perseverance, leadership, personal growth Amazon UK |
| LANGUAGE: | en |
| PHYSICAL FORM: | Book |
| TYPE: | Paperback |
The Extra Mile: My Autobiography By Kevin Sinfield - A Testament to Perseverance and Inspiration
In the realm of sports, few stories can match the remarkable journey of Kevin Sinfield, the former captain of the Leeds Rhinos rugby team. Sinfield's autobiography, aptly titled "The Extra Mile," provides a gripping account of his life, highlighting the trials, triumphs, and the relentless pursuit of excellence that defined his career. Released to critical acclaim, this book serves as a powerful testament to Sinfield's unwavering determination and his enduring impact on the sport he loves.
"The Extra Mile" delves deep into the life of Kevin Sinfield, taking readers on an emotional rollercoaster ride through his remarkable career. From his early days in rugby league, through the highs and lows of his time as the Leeds Rhinos' captain, and his transition to the world of rugby union, Sinfield's autobiography paints a vivid picture of his indomitable spirit.
The Power of Perseverance:
One of the defining aspects of Sinfield's story is his unwavering perseverance in the face of adversity. Throughout his career, he encountered numerous setbacks, both on and off the field. From injuries that threatened to derail his progress to personal tragedies that tested his resolve, Sinfield never allowed himself to be defeated. Instead, he used these challenges as fuel to push himself further and inspire those around him. "The Extra Mile" offers an intimate glimpse into Sinfield's mindset, revealing the unwavering determination that made him a true sporting icon.
As the captain of the Leeds Rhinos, Sinfield exemplified leadership qualities that extended far beyond the confines of the playing field. His ability to motivate and unite his teammates, his relentless work ethic, and his unwavering commitment to the sport made him a true role model for aspiring athletes. In "The Extra Mile," Sinfield reflects on the responsibility of leadership and the lasting impact he aimed to create, cementing his legacy as one of the most influential figures in rugby league history.
While rugby league serves as the backdrop for "The Extra Mile," Kevin Sinfield's story transcends the boundaries of sports. His resilience, humility, and unwavering dedication to his craft resonate with readers from all walks of life. Sinfield's autobiography offers valuable life lessons on overcoming challenges, setting ambitious goals, and pushing oneself to go that extra mile. Whether you are a sports enthusiast or not, this book has the power to inspire and motivate individuals to reach for greatness in their own lives.
"The Extra Mile: My Autobiography" is a captivating memoir that captures the essence of Kevin Sinfield's extraordinary career and the values that guided him on his path to success. Sinfield's story is one of perseverance, leadership, and resilience, and it serves as an inspiration to individuals facing challenges in any field of endeavor. Through his candid storytelling, Sinfield invites readers to join him on an incredible journey, motivating them to push beyond their limits and strive for greatness. This autobiography is a must-read for sports fans, aspiring athletes, and anyone seeking a powerful dose of inspiration and motivation to go that extra mile in their own lives.
You can get "The Extra Mile: My Autobiography" by Kevin Sinfield from a variety of sources such as:
Local bookstores: You can visit your local bookstore and see if they have the book in stock or order it for you.
Online retailers: Websites like Amazon, Barnes & Noble, and Book Depository offer the book for purchase online.
E-book format: You can also purchase an electronic version of the book for your e-reader or tablet from platforms like Amazon Kindle, etc.
No matter which method you choose, "The Extra Mile: My Autobiography" by Kevin Sinfield is a great read for anyone who enjoys heartwarming stories of love and self-discovery.
For more Amazing Books click here.